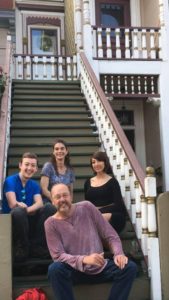 On Today's The Edge of Insanity on Mutiny Radio, 12-2 PM P.S.T. Paul Brumbaugh, Kitten Marie along with The #EdgeCrew Brandon Ray Brumbaugh & Mistress Christine are haging out in the KlubHouse playing some great stuff from Paul's Private Stash. We will also have another episode of #EdgeNewz, with the FloridaFilz. The 420 SHOUTOUT! with Patrick Carlin where he takes on today's headlines, headfirst. Call in with your topics or requests 415-550-0511
Please download this and every episode of The Edge before Aliens find them in a Time-Capsule a million years from now!
Listen or Download on paulbrumbaugh.com & pcrcollective.org
Brumbaugh's crazy brand of humor with Kitten Marie, Mistress Christine & Brandon Ray's unique perspective on the forever changing landscape of entertainers in our midst along with a variety of interesting guests that will keep you on the edge of your seat wondering where they may go next. Stayed tuned to keep your finger on the pulse of what people are calling the road map to entertainment here on the interwebs! Ready to conquer the world & beyond, 1 Sunday at a time!